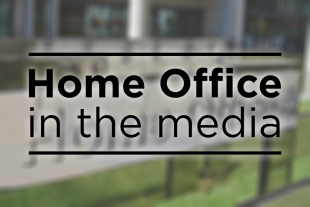 Today's leading stories include continued coverage of the Grays lorry incident, and the announcement of relaxed pub opening times to celebrate the 75th anniversary of VE Day.
Grays lorry deaths
Coverage of the Grays lorry incident continued to dominate both broadcast and the newspapers this morning.
An editorial in the Telegraph says that smugglers will always seek to find unorthodox routes to beat security checks. It adds that the tragedy highlights the need for a tighter UK border.
The Guardian's editorial warns that a border crackdown would be an "inadequate response to the tragedy". While the Times said the tragedy should "reinvigorate the UK's efforts to tackle people smuggling".
Comments made by the Home Secretary in Parliament yesterday on the incident can be found here:
The Home Secretary has also tweeted:
Priti Patel MP @patel4witham
This morning I met officers from Essex Police to express my thanks for their response to the tragic incident in Grays & receive an update on the investigation. I stand behind them as they continue their work to establish how this horrific event came to happen.
VE Day pub opening hours
The Times, Sun, Telegraph and Mail report that pubs and bars will be allowed to stay open later as part of a government plan to celebrate the 75th anniversary next year of victory in Europe.
The coverage adds that the proposal would allow venues that are licensed to trade only until 11pm to stay open until 1am on both Friday May 8 and Saturday May 9.
It comes as the Government has moved the early May bank holiday next year from Monday, May 4 to Friday, May 8 to mark the VE Day anniversary.
The extension of pub opening hours will be subject to a consultation with the police, licensing authorities, industry, community groups and veterans' organisations. It will also have to be voted on by Parliament.
The Telegraph reports that past national occasions where the Government has extended licensing hours includes the royal wedding in 2018, the Queen's 90th birthday in 2016, the 2014 World Cup, the Queen's Diamond Jubilee in 2012 and the royal wedding in 2011.
The Times carries a statement from the British Beer & Pub Association, who say that the news "will be greatly welcomed by people looking to celebrate the occasion and remember those who gave so much during the war".
Home Secretary Priti Patel said:
VE Day is a landmark day in our history. Extending licensing hours will pave the way for commemorative events across the UK, so we can pay tribute to the courage and determination of the millions who fought for our freedom or supported the war effort at home.