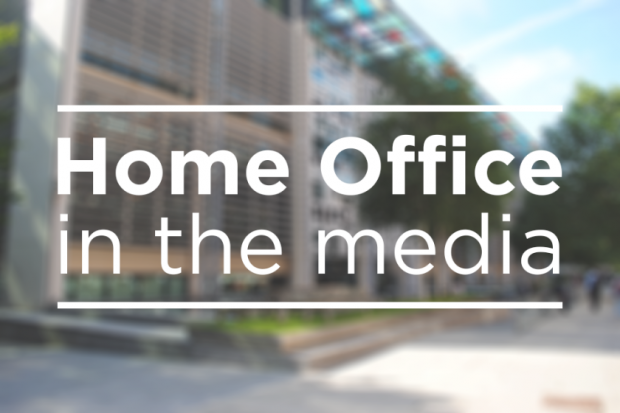 The Home Secretary has expressed her continued support for tougher sentences for criminals who attack frontline emergency service workers by contributing to the launch of the Daily Express Protect and Respect campaign.
The campaign, which launched today, is calling for more convictions of criminals who attack police officers, prison workers and front line emergency service staff.
The following comment piece was included in the campaign launch.
Home Secretary Priti Patel said:
"Our frontline emergency service workers have some of the toughest jobs there are - it's no exaggeration to say they put their lives on the line every day to keep us safe. They are the unsung heroes across our communities.
"The utterly appalling attack last week on prison officers at HMP Whitemoor, and before that the tragic death of PC Harper, and the countless numbers of assaults on ambulance workers, police officers and prison officers have been stark reminders of just how dangerous the work they do is.
"I welcome the campaign here at the Express which has rightly called for an end of this abuse and like me wants to secure the appropriate sanctions against the perpetrators of violence and abuse against the very people who seek to protect us.
"I am unapologetic about doubling the maximum sentence for assaulting workers in emergency services. We need to make sure that the punishment truly fits the crime.
"When it comes to our brave police officers, my message is – I will give you the resources and the tools you need in the fight against the criminals who seek to do our communities harm.
"We are already taking action. Today bidding opened for Police and Crime Commissioners to equip up to 10,000 more officers with Taser, allowing them to better protect themselves and us from harm.
"It's why Prime Minister and I have launched an unprecedented drive to recruit an additional 20,000 officers over the next three years and why we've expanded stop and search powers so they can take more weapons off our streets.
"We are also introducing a Police Powers and Protection Bill which recognises the bravery, commitment and sacrifices of police officers and will provide them with additional powers and protection.
"We will enshrine the Police Covenant in law to ensure officers, and their families, have the support they need.
"I will empower and support those who protect us to keep our communities safe, and ensure that the criminals who assault and harm our outstanding emergency workers are punished for their heinous offenses through the changes this Government will bring into the criminal justice system."