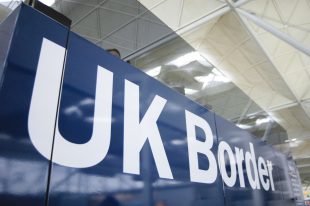 To protect the public and the UK's vaccine rollout, as international travel resumes the Government will maintain its enhanced borders regime, which include 100% checks and traffic light system for international travel.
Travel will continue to be different and passengers face longer wait times, although the Government is making every effort to speed up queues safely.
Over the past few weeks, a number of false claims around the health measures and wait times have circulated. Below are the facts on what Border Force is doing to keep the public safe while keeping queues to a minimum.
Airport queues and staffing 
There has been media coverage over past weeks on increasing queue times at Heathrow Airport. Many articles include misleading claims that the increase in queue times is down to a lack of resource and inadequate staffing levels of Border Force officers.
It is Government policy that 100% biosecurity checks are carried out on passengers entering the UK. New dedicated terminals for arrivals from 'red list' countries will enable passengers to be processed as safely and as efficiently as possible, before being transferred to a managed quarantine hotel.
The fact is that airport immigration halls and desks are designed for e-gates and border checks that ordinarily would take anywhere between 45 seconds and 3 minutes. Travellers should expect international travel to be different now.
Border Force is working to ensure that it has the right staffing levels to check that passengers are compliant with border health measures and minimise wait times.
But, improvements to border technology means Border Force has more than halved the manual PLF checks for compliant passengers from around 5-6 minutes to 2 minutes when scanning a passport.
We are also upgrading our e-gates over the summer so they can be used by passengers returning from green or amber list countries. These e-gates are now operational at Heathrow (Terminals 2 and 5) and Gatwick, and further e-gates will come on-line as they successfully complete testing.
Those eligible to use e-gates that have been upgraded and who have complied with health requirements should see near to normal queue times of under 30 minutes.
Border Force officers can now check that passengers have completed their online Passenger Locator Form, which has been improved and simplified, when scanning their passport. And additional Border Force officers are being deployed where high volumes of passengers are expected.
Factors impacting wait times
Airlines are responsible for making sure that their passengers have completed all the necessary requirements before boarding. Passengers who have not complied with the requirements can take between 30 – 45 minutes for Border Force officials to check, on top of the initial queuing time, as it often involves enforcement actions such as fines. This can cause considerable delays to other passengers.
In addition, there are a number of factors that contribute to queue waiting times at the border such as the level of passenger compliance with health requirements, flight congestion and arrival scheduling. Border Force is taking all steps available to smooth the process at the border.
Border Force have taken steps to make sure that there is the maximum number of additional Border Force staff possible to carry out these crucial checks.
When passengers notice an empty desk, it can be because Border Force officers are having to deal with a passenger who has not completed the forms correctly and they need to leave the desk to do follow up checks.
Why these health measures at the border are important 
We have some of the most stringent border measures in the world including implementing a three-test regime and requiring all those travelling from Red or Amber List countries to self-isolate for 10 days. Travellers from Red List countries must quarantine in a designated Managed Quarantine Hotel.
All Border Force operations are kept under constant review, but the 100% checks introduced by the Government, to protect the public and reduce the risk of new variants of the virus from entering the UK, will continue until it is deemed safe to reduce the number of checks.
We will never compromise on border security and continue to fulfil our vital function of keeping the border secure and are deploying additional officers to provide support as and when required.
Everyone allowed to enter England from outside the Common Travel Area (Ireland, the Channel Islands or the Isle of Man) must take a pre-departure Covid-19 test 72 hours before arrival and complete their Passenger Locator Form.
Passengers arriving from green list countries must have a Covid-19 test booked to take within 2 days of their arrival.
Passengers who have travelled through or from an amber list country in the last 10 days before travel must self-isolate for 10 days on arrival and have a Covid-19 test booked on day 2 and 8 after arrival.
Passengers who have travelled through or from a red list country in the 10 days before travel must have a managed quarantine hotel booking for 10 days after arrival and take a Covid-19 test on days 2 and 8 after arrival.
How passengers can help 
It is vital that passengers complete the necessary requirements to enter the UK, such as purchasing testing packages or booking their hotel quarantine in advance.
Passengers must complete these steps before entering the country and airlines must check that they have been done.