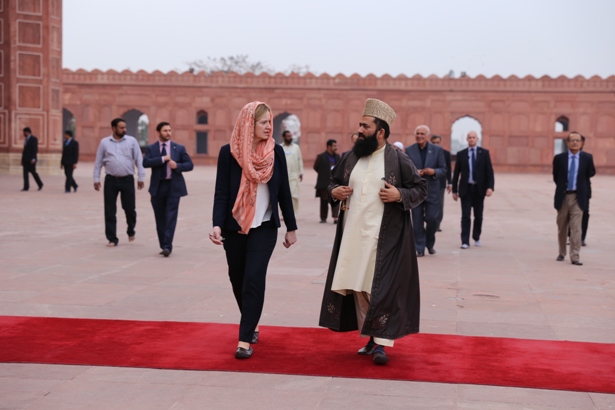 The Home Secretary has written in this week's Eastern Eye about her visit to Pakistan and the importance of community cohesion.
Rt Hon Amber Rudd MP, Home Secretary
As originally published by the Eastern Eye on 31 March 2017.
On Wednesday evening as I was preparing to return to the UK after an inspiring two day visit to Pakistan, I received the shocking news that an attack had occurred in Westminster.
Suddenly I was no longer reflecting on the warmth of the welcome I received and the many useful conversations I will be taking forward. I was instead receiving a briefing on the horrific events unfolding in London.
But looking back now – as we come to terms with the tragic events of last week – I realise there is much I can draw on from my experience in Pakistan.
I visited Islamabad and Lahore as the country celebrated its 70th anniversary this year.
The UK and Pakistan have a uniquely close relationship. We have a shared history. We have shared challenges. And 2% of the British population can trace their roots back to Pakistan.
My priority is keeping the UK safe, but ensuring security and justice for the British people not only requires us to work closely with partners at home, but also important partners overseas, not least Pakistan.
In Islamabad, I had productive discussions with Prime Minister Nawaz Sharif and Interior Minister Chaudhry Nisar about how we can work together to tackle the shared challenges of security, extremism and illegal migration.
While in Lahore I was privileged to meet Chief Minister of Punjab Shahbaz Sharif to discuss our co-operation with his provincial Government on rule of law issues. I also had the opportunity to visit the historic Badshahi Mosque, and meet the Grand Imam who chairs a regular interfaith dialogue in Pakistan.
It's crucial that countries such as ours can cooperate at a political level. But tackling common threats also involves working with communities, charities and other organisations.
I learnt about how people across Pakistan are tackling violence against women and modern slavery, two topics I'm personally passionate about.
I spoke with the inspiring, double Oscar winning documentary maker Sharmeen Obaid Chinnoy about women's rights in Pakistan. I met with representatives from Punjab Provincial Government, charities and lawyers to discuss tackling modern slavery and strengthening protection of women from violence and forced marriage. And I saw first hand how a village community in Baidian is taking action to support women, young people and religious minorities.
Reflecting on last week's brutal attack –my time in Pakistan helped remind me of the power of communities coming together to stand up against common threats. Whether it's countries uniting around common values, or a village standing up for what it believes in.
The aim of cowardly attacks like last week is to sow division and mistrust. Terrorists want us to see the neighbour we nodded to yesterday morning as someone of suspicion a day later.
As the Prime Minister said last Wednesday: the location of the attack was no accident. It was an attack on the heart of our capital city, where people of all nationalities, religions and cultures come together to celebrate our society's shared values – values of democracy, the rule of law, individual liberty and the mutual respect and tolerance of people of different faiths and beliefs. Values which are at the heart of our efforts to tackle extremism in all its forms.
The victims of the attack included British people, French people, Romanian, South Korean, German, Polish, Irish, Chinese, Italian, American and Greek people. This diversity – and the bravery and solidarity we saw as events unfolded - are the only part of last week's events that truly reflect London, and a 21st century global Britain.
I am full of pride that we have seen the people of Britain answer the Prime Minister's call to continue with their lives, vigilant but defiant, and show that the terrorists will never win. And part of that is rejecting hatred at every turn.
So we will not allow the detestable actions of one individual to divide us. And we should not allow those actions to change our country's shared values. It is vital we come together at this difficult time and unite even more strongly.
That is why I went to the vigil in Trafalgar Square the day after the attack to join Londoners showing their defiance.
And that is why I was so pleased to see religious leaders speaking out with more than a dozen of them joining me at a meeting at New Scotland Yard on last Thursday.
Powerful shows of solidarity like the Muslim women holding hands across Westminster Bridge this weekend are ensuring this lone attacker has failed in his mission to spread hate.
This atrocity has united communities and faiths across the UK, and while I recognise that faith communities might feel vulnerable at this time, we will not be complacent and will continue to monitor hate crime and ensure anyone affected has the support and protection they need.
My message today is simple: hatred of any kind is wrong and will not be tolerated, now or ever.