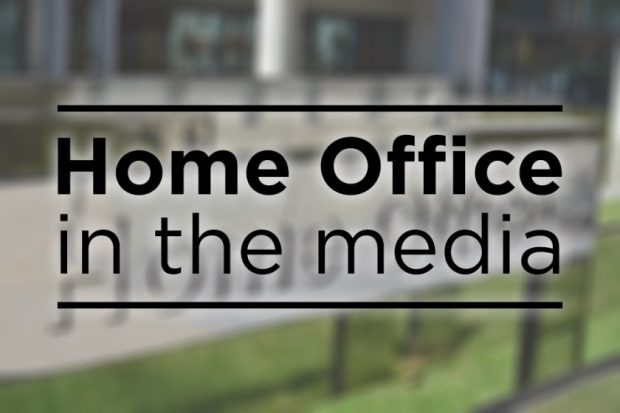 The main Home Office related news in the media today focuses on a Migration Watch report on the government's net migration target and further coverage on the future of Operation Grange – the investigation into the disappearance of Madeleine McCann.
Migration Watch report
The Mail, Express, and Sun cover the report from Migration Watch which states that non-EU migration is likely to stay at around 155,000 a year until 2021. The coverage in the Mail references that the report was based around "major studies carried out by the Home Office of work, study and family visas issued between 2004 and 2010".
Our statement on Migration Watch's report is below.
A Home Office spokesperson said:
We remain committed to bringing net migration levels down to sustainable levels. Non-EU citizens make a vital contribution to the UK economy and our society, but the UK needs a fair and controlled immigration policy and that is exactly what this Government will deliver.

We have already taken action to restrict non-EU migration, including increasing the minimum salary threshold for skilled workers and introducing measures to ensure family migration doesn't put an unacceptable burden on taxpayers.
The future of Operation Grange
The Mail, Express, and Sun report that the Metropolitan Police has asked for more money from the Home Office to pursue a "final line of inquiry" into the Madeleine McCann case. The coverage all references that more than £11m has been spent so far, and more is now being requested as it's due to run out at the end of next month.
Our statement on these reports is below.
A Home Office spokesperson said:
The Home Office has provided the Metropolitan Police with the funding required to continue Operation Grange until the end of September 2017.

The level of funding provided is a reflection of the wide-ranging and complex nature of the investigation which the police have deemed necessary to undertake.

The Home Office has not received any further application for funding, but any future request will be considered carefully.