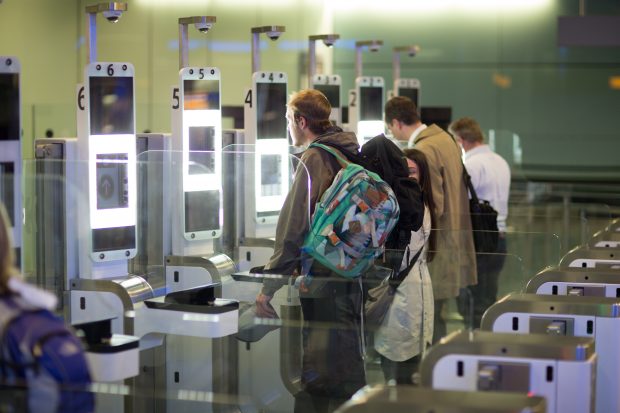 There is extensive coverage across the newspapers this morning of the net migration figures published yesterday, student migration and new exit check data on those leaving the UK.
Net migration
There is widespread coverage of the fall in net migration with a number of the papers focusing on the departure of tens of thousands of Eastern Europeans from the UK following the EU referendum. The Times, Mail, Express, Telegraph, Mirror and Sun lead with the fact that the number of EU citizens leaving the UK increased by a third in the year to March, helping to bring net migration down to its lowest level in three years. Many of the papers report that the Office for National Statistics (ONS) has said it it too early to tell if this increase in emigration is a long-term trend and the Times, Financial Times, Mail and Independent report that business groups have warned of potential staff shortages.
Editorials in the Mail, Express and Sun say that a fall in net migration is a welcome step in the right direction but that 250,000 is still far too high and is placing pressure on housing, schools and the NHS.
A statement from the Immigration Minister on these figures can be found in yesterday's blog post.
Student migration and exit checks
The Guardian, Times, Financial Times, Independent and City AM report that the Government is under pressure to remove students from net migration figures after the publication of a report on exit checks which revealed that far fewer students overstay their visas than was previously estimated. The Telegraph says the exit checks data means the scale of net migration could be tens of thousands lower than official estimates, adding that the ONS is now conducting a review. 
The papers quote a number of opposition MPs, including Shadow Home Secretary Diane Abbott and Liberal Democrat leader Sir Vince Cable, calling on the government to stop using "phoney numbers" and should exclude students from the net migration target.
The government believes it is right that international students, like other migrants who stay for longer than 12 months in the UK, remain within the net migration statistics. A statement on our exit checks report and student migration is below.
A Home Office spokesperson said:
There is no limit on the number of genuine international students who can come to study in the UK.

 

The Exit Checks report shows that the measures the Government has introduced to crack down on abuse of student routes are working and we now have high levels of compliance.

 

At the same time we've maintained a highly competitive offer for those talented international students who want to learn at our top institutions, and the number of sponsored applications to study at our universities have continued to rise.