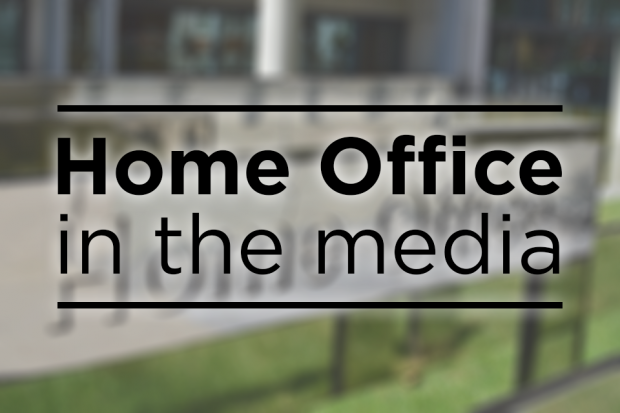 Today's Home Office related stories include the future of the UK's immigration policy and female genital mutilation.
Immigration post-Brexit
The Guardian and a number of other newspapers and news websites have published articles on the future immigration system after the UK leaves the European Union. These are based on measures within what the Guardian refers to as a Home Office document leaked to the newspaper. The papers report that the Government is considering a curb on unskilled labour from the EU, tougher rules on foreign criminals coming to the UK and changes to policy that currently allow members of an EU citizen's extended family to come to the UK.
Our statement on the story can be found below.
A Government spokesperson said:
We do not comment on leaked draft documents.

We will be setting out our initial proposals for a new immigration system which takes back control of the UK's borders later in the Autumn.
Female genital mutilation
BBC News and Newsnight report that children have spent time in child protection plans on the false suspicion they were the victims of female genital mutilation (FGM). The BBC report that it can take months for children to be examined in cases where FGM is suspected and children can be separated from their parents while this happens. The BBC says the current scale of FGM may not be as significant as has previously been thought.
The Government's response to the story is below.
A Government spokesperson said:
Female Genital Mutilation is a horrific act of abuse, which this Government is working to tackle. We will not tolerate a practice that causes lifelong physical and psychological suffering to its victims, and so have significantly strengthened the law to protect potential victims and bring offenders to justice.

As we work to tackle this brutal crime it is vital to put the safety and wellbeing of women and girls at the heart of everything we do.  We have published comprehensive standards of what we expect in delivering FGM care for those under 18, in which we are clear that those examining children should be doctors, and that they need paediatric competencies and appropriate experience.

We know that by its nature FGM is a hidden crime and the Government is committed to improving our understanding of the scale and nature of it in the UK.