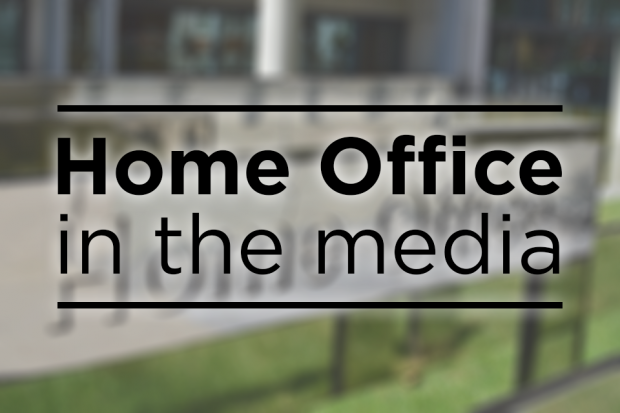 There is widespread reporting of issues relating to the Home Office in the media today. There are numerous reports about different aspects of future immigration policy, coverage of a Stonewall report into LGBT hate crime, and a piece in the Guardian about passport difficulties an MP encountered when travelling with her daughter.
Future immigration policy
There is further widespread reporting following yesterday's coverage of a leaked Home Office document which sets out draft proposals for the immigration system once the UK leaves the EU.
Within the coverage, the Times reports on another element of the leaked immigration paper, with the paper claiming that students from the EU will have to pass English language tests before being admitted to the UK, while the Mail says the draft plans could make it easier to remove EU nationals who commit serious crimes here.
Our position on this story remains as below.
A Home Office spokesperson said:
We do not comment on leaked draft documents.

We will be setting out our initial proposals for a new immigration system which takes back control of the UK's borders later in the Autumn.
Stonewall report into LGBT hate crime
The BBC and Independent report on new data put out by the charity Stonewall in conjunction with YouGov which says that hate crimes committed against the LGBT community have increased by 80% in the last five years.
Our statement on this issue is below.
Minister for Countering Extremism, Baroness Williams of Trafford said:
All forms of hate crime are completely unacceptable and those who commit these awful crimes should be met with the full force of the law.

We are clear there can be absolutely no excuse for targeting someone because of their gender identity or sexual orientation. We put victims at the heart of everything we do, which is why we work closely with partners to support victims of LGBT hate crime.

Our Hate Crime Action Plan is improving the response of law enforcement and criminal justice system to these horrendous attacks, including ensuring more victims have the confidence to come forward and report such incidents.

In the longer term, we will use the results from our national LGBT survey – launched this summer – to inform our plans to improve LGBT equality.
Call for new passport rules
The Guardian reports that Labour MP, Tulip Siddiq, has called for a change in passport regulations after she was stopped with her daughter at border control as she did not have the same name in her passport as her child. The paper adds that she has written to the Home Office asking them to change the law.
Our statement on this issue is below.
A Home Office spokesperson said:
We have a duty to safeguard children and to prevent people trafficking, child sexual exploitation and other crimes committed against children. That is why Border Force staff need to determine whether the adult travelling with the child has parental responsibility or parental authority had been given to travel with the child.

We aim to do this quickly and with as minimal disruption to passengers as possible and that is why we encourage all parents to make use of the 'Emergencies' page in their child's passport where names and contact details of parents can be written.