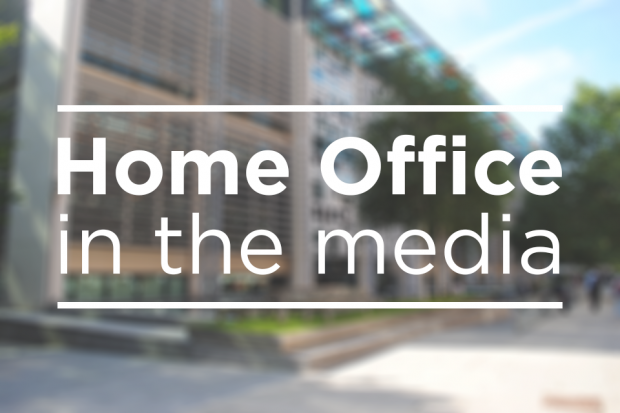 Today's newspapers report on modern slavery experienced by Vietnamese nationals in the UK and the sentencing of a couple convicted of people smuggling.
Combating Modern Slavery report
The Times and Guardian report on findings by the Independent Anti-Slavery Commissioner into modern slavery and exploitation experienced by Vietnamese nationals en route to and within the UK.
The papers report that UK nail bars have become a common place for exploitation, with both men and women finding themselves required to train as nail technicians and work for low wages, which they are then forced to hand over to repay debts, or for cramped accommodation.
The Times says the report urges greater cooperation between Britain and Vietnam to tackle the growing problem of trafficking and exploitation, campaigns to raise awareness and regulations of sectors such as nail bars. Our statement can be found below:
A Home Office spokesperson said:
Modern slavery is a barbaric crime which destroys the lives of some of the most vulnerable in our society. This Government has taken world-leading action to tackle it, giving law enforcement agencies the tools they need, toughening up sentences, increasing support for victims and encouraging more to come forward.

The UK is working to develop a Memorandum of Understanding on modern slavery and human trafficking with the government of Vietnam, to enable greater cooperation to apprehend perpetrators and support those at risk.

As the Home Secretary has made clear, we will soon be announcing a package of reforms to the National Referral Mechanism (NRM), to improve the process and enhance the support we provide victims.
People smuggling case
The Times, Express, Sun, Mirror and Metro report a mother-of-four who attempted to smuggle 12 illegal immigrants hidden in stacks of tyres in a van, has been jailed with her former boyfriend.
Katy Bethel, of Dial Road, Gillingham, Kent, was sentenced yesterday to two years and nine months at Maidstone Crown Court for assisting unlawful immigration. Aaron Harris, who lived with Bethel at the time, had previously pleaded guilty and was sentenced to five years in prison.
The papers report the couple, both 28, were stopped in July 2015 at the Eurotunnel check-in at Coquelles as they tried to re-enter the country with migrants hidden in the back of a Mercedes Sprinter van.
After spotting a pair of legs in jeans through a gap in one of the stacks, Border Force officers discovered a group of five women, four men and three minors.
Journalists interested in case should contact the Home Office press office for a copy of the press release and accompanying photos.