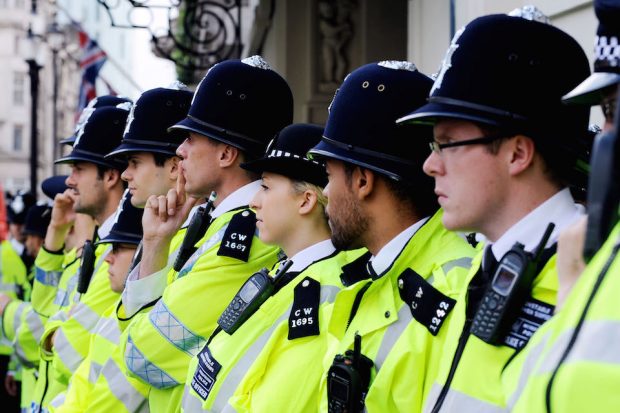 Home Secretary Amber Rudd has published the police pay award for 2017.
Policing is an attractive career, with a pension that is among the best available in the public or private sectors. It is, by its nature, a uniquely challenging, demanding but also very rewarding role, keeping the country and our communities safe.
Police Pay and Pensions
-     Police officers benefit from a competitive pay and benefits package. The starting salary is between £19,971 (no qualifications) and £23,124 for constables, rising to £38,382 within 7 years of joining.
-     The 2017 Police Remuneration Review Body (PRRB) report found that in 2015/16 police pay was 6% above professional occupations and 41% higher than wages in the wider economy.
-     More than half of police constables are currently at the top of their pay bracket. Median total earnings for constables and sergeants are £40,000.
-     Police officers are entitled to membership of a defined benefit pension scheme. Members benefit from employer contributions of 21.3% of their pay towards their pensions on top of their own contribution. All contributing members are able to take their pension by age 60, with the majority able to take a pension sooner.
-     Officers receive a minimum of 22 days of annual leave, rising with service to 30 days, plus bank holidays as well as flexible working schedules and career breaks.
-     Further benefits include: enhanced maternity pay and leave and parental support pay (up to two weeks), paid allowances to compensate for disruption to family life and the demands of the role, and sick leave on full pay for up to six months;
Police pay progression
-     Police officers who have not reached to top of their pay scale receive annual incremental pay of at least 2% in addition to any annual pay awards depending on rank and experience. This is dependent upon an officer's performance having been graded as either 'satisfactory' or above in the annual appraisal. Dependent on satisfactory performance, a constable will typically reach the top of their pay scale in 5-7 years; other ranks in 3-4 years.
Police pay brackets  
Minimum
Maximum
Police constables
£19,971 - £23,124 depending on skills and experience

£38,382
Sergeants
£39,693

£43,134
Inspectors

£49,176

£51,330 (in London)

£53,340

£55,512 (in London)

Chief Inspectors
£54,432

(£56,601 in London)

£56,670

(£58,833 in London)

Superintendents
£65,478

£77,340
Chief Superintendents
£81,156

£85,614
Assistant Chief Constables
£98,538
£111,249
Deputy Chief Constables*
£114,429
£146,217
Chief Constables*
£136,677
£190,710
The Metropolitan and City of London Police have additional senior officer ranks, as detailed below:
Commanders
£98,538
£111,249
Deputy Assistant Commissioners*

(Metropolitan Police only)

-
£146,217
Assistant Commissioner*
City of London Police

Metropolitan Police

-

-

£139,482

£190,710

Deputy Commissioner*

(Metropolitan Police only)

-

£225,675

Commissioner*

Metropolitan Police

City of London Police

-

-

£273,354

£169,110
* Pay for chief officer ranks is determined by the size of the force and level of crime demand
Additional pay allowances
-       In addition to basic pay, police officers in London receive regional allowances of up to £6,735 per annum.
-       Police officers in Essex, Hertfordshire, Kent, Surrey or Thames Valley constabulary may receive regional allowances of up £3,000 per annum.
-       Police officers in Bedfordshire, Hampshire or Sussex constabulary may receive regional allowances of up £2,000 per annum.
Working for the Police
-     Applications rates for police officer roles remain high. For example, just this month more than 1500 people applied for 300 Humberside Police officer jobs.
-     The current police officer turnover rate is 6% a year, which is low compared with other public and private sector workforces. Voluntary resignations remain low at less than 2%. The independent Police Remuneration Review Body (PRRB) reviewed the evidence from a range of policing bodies and concluded retention rates are stable. Long term sickness rates have fallen by 2% since last year.
-     Nearly two thirds of the public believe that the police are doing a good or excellent job according to the independent Crime Survey for England and Wales March 2017.
-     The police officer workforce is more representative in terms of gender and ethnicity than it has ever been. There are 7,572 BME officers representing 6.3% of all police officers (compared with 4.7% in 2010 and only 2.2% in 2000). There are 35,844 female officers, representing 29.1% of all police officers (compared with 25.7% in 2010, and only 16.5% in 2000).
Training and Entry
-     Policing is a vitally important profession and officers increasingly gain a high level of specialist skills across a range of areas. The College of Policing is introducing a range of routes into the service, including a specific degree in policing, degree holder entry and a three-year police constable degree apprenticeship, paid for by police forces, which will all be available for forces from next year.
-     Innovative schemes such as Direct Entry, Fast Track and Police Now are making the police workforce more diverse than ever before; showing that we can attract the brightest and best into policing, whilst introducing new perspectives into policing some of the country's most challenging neighbourhoods.
Police Wellbeing
-     The Government recognises that policing is a rewarding career, but in some cases it can be stressful and, over time, this can take its toll. Police chiefs have a statutory duty to manage the welfare of their officers and in addition, there are a range of support schemes funded by the Government.
-     Approximately £5.5 million has been awarded to the charity Mind to develop a package of targeted support and information for all emergency services personnel including rolling out their Time to Change campaign – a flagship initiative which challenges mental health stigma and discrimination.
-     In July 2017, the Home Secretary awarded £7.5million from the Police Transformation Fund over three years to pilot and - if it is successful - fund a dedicated national service to help provide enhanced welfare support, which if police officers need it they can rely on. The new service will complement the support already delivered at force level to serving police officers and staff, covering mental health advice and welfare support.