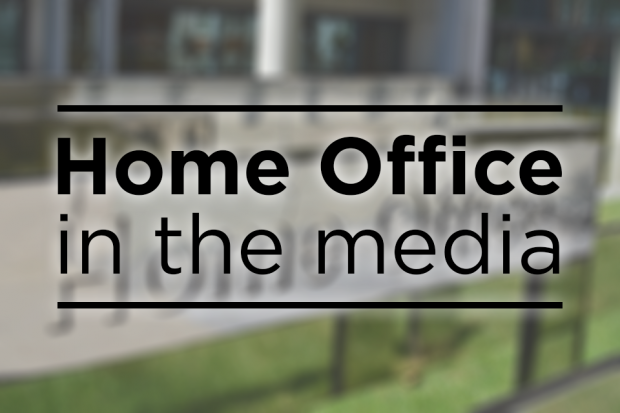 Today's Home Office stories of interest include reports that the Metropolitan Police will no longer investigate some low-level crimes, and news that the government has agreed to back a move to make assaulting emergency services workers more serious crimes.
Metropolitan Police "to investigate 150,000 fewer crimes"
The Sun, Mirror and Mail report that the Metropolitan Police are to stop investigating some crimes, including burglaries, thefts and low-level assaults, as a result of new guidelines in the force.
The Sun reports that critics have said the Metropolitan Police is "failing taxpayers" by changing the way that officers assess victims' reports of crime. The Sun and Mail quote former Detective Chief Inspector Mick Neville as saying that "no consideration is being given to victims" and the "worst villains will evade justice".
The Metropolitan Police are leading the response to this story. For more information, call their press office on 0207 230 2171.
Assaults on emergency services workers
The Mirror reports that police, firefighters and NHS staff "won a major victory" last night after ministers agreed a "crackdown on thugs who attack them on the job". The paper says the government confirmed it would back a move to make assaulting "999 workers" a much more serious crime after a campaign by Chris Bryant MP.
Our government statement on this story is below.
A Government spokesperson said:
We owe our brave emergency service workers a debt of gratitude for the courage, commitment and dedication they demonstrate in carrying out their duties.

This crucial change will send a clear message that we will not tolerate attacks on them, and we will work with Chris Bryant and others to ensure those who are violent face the full force of the law.