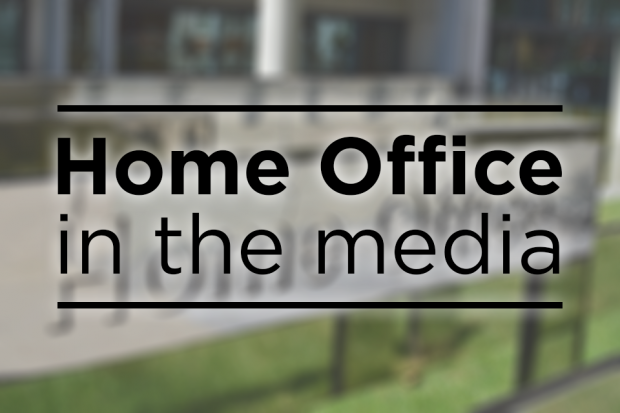 The main Home Office-related media coverage this morning relates to the publication of the latest crime statistics, Norfolk Constabulary's plans to get rid of police community support officers (PCSOs) and an update in the visa case of Marianne Rawlins.
Crime Statistics
There is widespread print coverage of yesterday's crime statistics, the majority of which leads on the fact that violent crime has risen significantly. The papers specifically point out that police-recorded knife crime is at its highest in six years, recorded homicides are up by 8% and recorded offences using guns are up by 27%. Overall, recorded crime rose by nearly 600,000 offences to take the total figure above 5 million.
Our statement on this issue is below, and there is further detail on what we are doing to keep families and communities safe on yesterday's blog.
Minister for Crime, Safeguarding and Vulnerability, Sarah Newton, said:
We welcome the fact that crimes traditionally measured by the Independent Crime Survey for England and Wales are down by almost 40% since 2010 and by 70% since their peak in 1995.

It's also good that the Office for National Statistics assess the police's recording of crime is improving, and that more victims of domestic abuse and sexual violence are feeling empowered to come forward.

But while it is clear that much of the rise in police recorded violent offences is due to better recording, we know that some of this increase is likely to be genuine. Which is why have taken urgent action to stop these crimes and keep our communities safe.

This week we began consulting on tough new laws to crack down on acid attacks and knife offences. Our Domestic Abuse Bill will help to bring this heinous crime out of the shadows and ensure victims receive both support and justice, as we invest £100m to  prevent and confront violence against women and girls. We are also investing £1.9 billion to counter the cyber threats we face.
Norfolk constabulary plans to stop using PCSOs
The Guardian and Telegraph, among others, report that Norfolk Constabulary plans to get rid of all of its 150 police community support officers because of budget cuts, making them the first force to do so.
Our statement on this issue is below.
A Home Office spokesperson said:
Ultimately decisions on the size, composition and deployment of a police force's workforce are for individual Chief Officers and Police and Crime Commissioners.

This Government has protected overall police spending in real terms since the 2015 Spending Review, with Norfolk Police receiving £3.4million more in total direct resource funding in 2017/18 compared with 2015/16.

Although crimes traditionally measured by the independent Crime Survey for England and Wales have fallen by well over a third since 2010, we are sensitive to the pressures the police are under, which is why Ministers have begun a programme of engagement with forces to better understand the demands they face and how these can best be managed.
Marianne Rawlins visa case
The Telegraph, Mail and Express carry an update in the visa case of US citizen Marianne Rawlins, the wife of British Navy officer, Commander Simon Rawlins. The papers say the Home Office has confirmed her visa has been granted, enabling the couple to be reunited.
Our update on the case is below.
A Home Office spokesperson said:
We have received all the information we requested to process Mrs Rawlins' application and we have today issued her visa. We have also contacted her to apologise for any inconvenience.