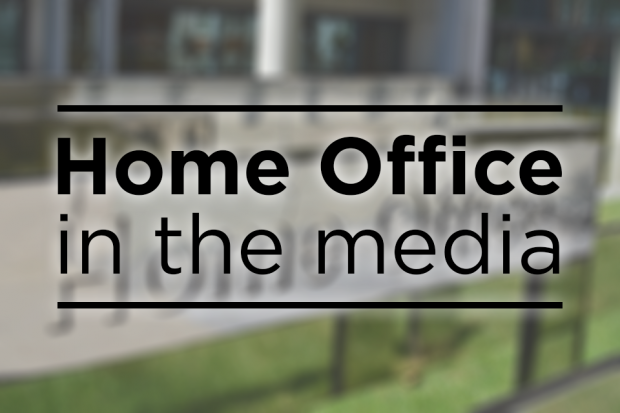 Today's Home Office coverage of interest includes stories on the Finsbury Park attacker, and an independent review of Sharia Councils.
Killer's hatred fueled by far-right online material
The Finsbury Park attacker, Darren Osborne, was found guilty of murder and attempted murder at Woolwich Crown Court yesterday.
The Guardian, Mail and Times are among the publications covering the story.
According to The Times, Osborne is believed to be the 'most quickly radicalised' of all recent terrorist killers and that his case has 'reignited calls for technology companies to do more to remove hateful material from their platform'.
According to The Guardian, the incident has triggered a 'complete review of the national security threat posed by the extreme right'.
See below for the Home Secretary's response.
Home Secretary Amber Rudd said:
Nothing will make up for the death of Mr Makram Ali but this conviction will hopefully come as some solace to his family and those injured as a result of Darren Osborne's horrific attack at Finsbury Park.

This Government will continue to be unwavering in our resolve to combat all forms of terrorism, whatever the underlying motivation. We will shortly be publishing our new counter-terrorism strategy which will set out our approach as we continue to stop and challenge those who seek to attack us, our values and our way of life.
Review into Sharia Councils
The Express, Telegraph and Guardian are among those that cover the independent review into Sharia Councils.
They all lead on the report's proposal that Muslim couples who marry in Islamic ceremonies should be required to have a civil marriage as well in order to provide women with more legal protections.
According to the Mail, the report risks controversy by rejecting calls to ban Sharia courts outright. Meanwhile the Guardian highlights the report's recommendation for awareness campaigns and education programmes to inform women of their rights and responsibilities.
See below for the Home Office's response.
A Home Office spokesperson said:
We are grateful for the independent review team's comprehensive analysis.

We will not be taking forward the review's recommendation to regulate Sharia councils. Sharia law has no jurisdiction in the UK and we would not facilitate or endorse regulation, which could present councils as an alternative to UK laws.

In Britain we have a long tradition of freedom of worship and religious tolerance, where many people of different faiths follow religious codes and practices and benefit from their guidance. The Government has no intention of changing this position.

We will consider carefully the review's findings and its remaining recommendations.