Today's Home Office stories include the deportation of 49 people to Ghana and Nigeria, facial recognition technology and medicinal cannabis.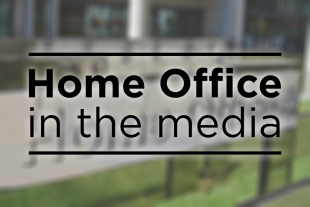 Criticism of deportations to Ghana and Nigeria
There is widespread reporting of the deportation of 49 people to Ghana and Nigeria last year.  
Caroline Lucas MP has asked Immigration Minister Caroline Nokes whether those who had been deported in March last year had been contacted by the Windrush Taskforce.
The papers report comments by the Immigration Minister, who said if the individuals believe they are protected under the 1971 Immigration Act they should contact the Windrush Taskforce for assistance. 
A Home Office spokesperson said: 
Any individual who believes they are protected under the provisions of the 1971 Immigration Act is able to contact the Windrush Taskforce, who will help to identify their current status.

We have always been clear that the Windrush Scheme is not restricted to the Windrush generation or people from the Caribbean, but it is right that applicants for citizenship need to satisfy the good character and residence requirements. 
Investigation into facial recognition technology
The Telegraph reports that the information watchdog has launched a formal investigation into the police use of facial recognition technology following trials across the country.
Information Commissioner Elizabeth Denham opened the inquiry after expressing 'significant concerns' over the legality and effectiveness of the technology, which was used at Notting Hill Carnival. 
A Home Office spokesperson said: 
Facial recognition technology plays an important role in the detection and prevention of crime, and in providing improved services for the public, such as the use of e-Gates.

When forces choose to deploy facial recognition technologies it is essential to maintain public trust.  All deployments must be in line with data protection law, including having appropriate oversight.
 'First user' of medicinal cannabis 
There is follow-up coverage in the Times, Mail and Sun of a former university lecturer who claims to be the first person to be prescribed medicinal cannabis. 
Carly Barton suffers from chronic nerve pain as a result of a stroke and has been diagnosed with fibromyalgia. She says she has spent £2,500 on a three-month supply. 
 A Government spokesperson:
Cannabis based products for medicinal use can be imported using appropriately licensed pharmaceutical wholesalers. 

There are already a range of products that can be supplied and we are working closely with a range of other manufacturers to ensure a wider range is available for specialists to prescribe for their patients.