Today's Home Office stories include social media and knife crime, police cuts, and immigration post-Brexit.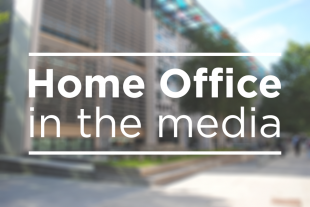 Social media and knife crime
The Telegraph, Mail, Express, Times, Independent and BBC Breakfast report on comments made by the Home Secretary regarding social media companies' responsibility to regulate the content on their platforms that may glamourise or encourage knife crime. According to the Telegraph, the Home Secretary has warned that social media firms may be banned from hosting videos and images that fuel knife crime.
The Telegraph notes that fatal stabbings are at their highest level since the Second World War and that at present, police can only request that companies take down material they believe is linked to gang violence or that incites violence. Until a month ago, only 129 such requests had been made.
The Mail notes the same increase in fatal stabbings and also references the Home Secretary admitting that worrying about his own children has kept him awake at night.
The Telegraph, Times, Mail and Independent all note that drill music is identified as a contributing factor by some, with the Times suggesting that the Home Secretary is particularly concerned about it. However, the Independent also acknowledges that critics have said that the music reflects young people's experiences and is being disproportionately blamed for violence.
All the reports note the upcoming Online Harms White Paper, which will lay out the Government's plans for legislation in this area.
A Government spokesperson said:
Our forthcoming Online Harms White Paper will set out the responsibilities on social media companies to ensure they are not promoting harmful content to vulnerable people.

As part of the White Paper the Government is considering a statutory 'duty of care' on platforms. Further details of the White Paper will be released in due course.
Cuts are driving police officers to breaking point
There is widespread coverage of a survey by the Police Federation that says police officers have been driven to breaking point by cuts to their numbers and rising demands.
The Guardian says that the survey is part of a Police Federation campaign to put pressure on the Government to fund more officers on the beat after years of cuts.
The survey found that 79% of respondents said they had felt stressed or anxious in the past 12 months, with 94% saying their duties as police officers caused those feelings or made them worse, the Guardian reports. The paper includes an example of one officer who sought counselling after stress left him unable to sleep, with feelings that the job could not be done.
The Times reports that the survey shows more than three-quarters of frontline officers have worked the beat alone. The paper says that police investigating knife crime are being hampered because of officers being "single-crewed", and that attempts to tackle burglary and domestic violence are also being affected because police are trained not to search or intervene when alone.
Minister for Policing and the Fire Service Nick Hurd said:
The Home Secretary and I have been crystal clear that policing's greatest asset is its people, and we are determined to ensure that forces have the support and resources they need to protect the public.

I am delighted that Parliament has approved our funding package for next year, which will increase investment up to £970m, including money raised through council tax. This funding settlement recognises the demands on police forces and Police and Crime Commissioners are already setting out plans to recruit more officers as a result.

We take the wellbeing of police officers and staff very seriously, which is why we launched the Front Line Review to listen to their concerns and have invested £7.5m in a new national police wellbeing service.
Migration Watch: Immigration will rise post-Brexit
There is widespread reporting of think-tank Migration Watch's claims that migration will rise to 500,000 post-Brexit.
The Sun reports that the Home Secretary's proposed "super-soft" controls could see the number of workers from non-EU nations double, with Migration Watch saying that migration could reach half a million unless proposals are heavily revised.
The Telegraph reports that the net total would be higher than the record figure of 336,000 in June 2016, and would mean a rise of more than 50 per cent compared with the 10-year average of 250,000 annually.
Migration Watch has said that proposals that say firms will not have to advertise a vacancy in the UK before looking abroad will mean that nine million jobs will be opened up to global competition, the Sun reports.Lines to take: The below statement has been cleared and issued.
A Home Office spokesperson said:
These remarks are inaccurate and untrue.

Skilled workers will be required to meet a minimum salary threshold, which the Migration Advisory Committee recommend should be set at £30,000. We will be engaging with business on this, but this it ensures we can attract the talented people we need for the UK to prosper while controlling immigration.

Furthermore, the proposed temporary short-term workers route, designed to help businesses adjust when the future immigration system comes into effect in 2021, will be reflected in official migration statistics.

We are ending Free Movement and through the future system we are committed to bringing net migration down to sustainable levels and keeping the border secure.