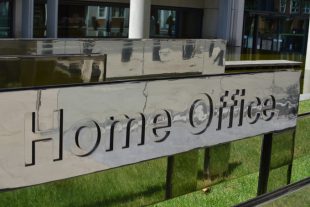 Today's Home Office stories include returning Daesh fighters, Zimbabwe removals and a trafficking caseworker job advert.
People returning from Syria
There is widespread coverage in print and on broadcast of Shamima Begum, one of the girls from Bethnal Green who left the UK to join Daesh four years ago. She has given an interview with The Times, saying that she wants to come home and she is nine months pregnant. She adds that she has "no regrets" about leaving the UK.
The Today Programme noted that she was found in a refugee camp in Syria by a Time journalist, while The Times reports that Ms Begum had two infant children who have died, and that her husband is in captivity.
Security Minister Ben Wallace was on Sky News and the Today Programme this morning discussing the Government's position on returnees from Syria and Iraq. He told the BBC that anyone who travelled to the region against the Foreign Office's advice and returns must be prepared to be questioned, investigated and potentially prosecuted.
Security Minister, Ben Wallace, said:
The UK advises against all travel to Syria and parts of Iraq. Anyone who does travel to these areas, for whatever reason, is putting themselves in considerable danger.

Everyone who returns from taking part in the conflict in Syria or Iraq must expect to be investigated by the police to determine if they have committed criminal offences, and to ensure that they do not pose a threat to our national security.

There are a range of terrorism offences were individuals can be convicted for crimes committed overseas and we can also use Temporary Exclusion Orders to control an individual's return to the UK.
Zimbabwe removals
The Guardian reports on calls for the Government to suspend deportations to Zimbabwe in light of human rights abuses.
The article says that two refused asylum seekers were detained at the Home Office's Vulcan House in Sheffield on Monday and told they could be returned to Zimbabwe within days. The paper adds that the Home Office has received criticism for pushing ahead with deportations for failed asylum seekers to the country, many of whom have been in the UK "for more than a decade."
Baroness Williams's comments in the Lords are quoted in the piece, saying that the Home Office "only seeks to return those whose asylum claim has been unsuccessful. They are by definition not at risk on return."
A Home Office spokesperson said:
The UK has a proud history of granting asylum to those who need our protection.

Where a decision has been made that a person does not require international protection removal is only enforced when we and the courts conclude that it is safe to do so, with a safe route of return.
Trafficking caseworker job advert
There was coverage in the media about a job advert for a National Referral Mechanism decision maker suggesting that the pay and status of the role is too low.
Buzzfeed reports that the role is advertised for temporary staff paid just over the minimum wage for people who have "responsibility for making an official ruling over whether someone is a victim of modern slavery", while the Independent quotes anti-slavery charities saying the Home Office mistakes in the decision-making process are "commonplace".
The Home Office's response is carried in both pieces.
A Home Office spokesperson said:
The Government is committed to tackling modern slavery and supporting all victims through the National Referral Mechanism (NRM). That is why we are reforming the NRM to ensure victims of modern slavery to get the support they need more quickly. New measures include recruiting a number of temporary staff to help ensure quicker, more effective decision-making.

Successful candidates will receive extensive training from experienced colleagues and their performance will be routinely monitored.