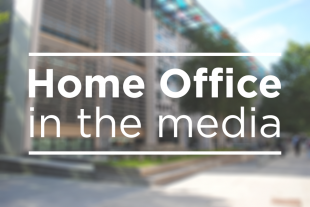 Today's Home Office stories include the case of Shamima Begum and the immigration case of a 90-year-old man.
Shamima Begum case
There is widespread coverage this morning in all the newspapers and on broadcast of the case of Shamima Begum, the British girl who joined Daesh at 15 years old and has now said she would like to return to the UK.
The Times carries an exclusive statement from the Home Secretary (full statement below) making clear that anyone returning from Syria should be ready to be investigated. On its frontpage the paper also reports that the family of Shamima Begum appealed last night for her to be shown mercy as the Home Secretary tried to "shut the door on her hopes" of returning to Britain. Relatives of Shamim, 19, pointed to her youthful innocence at the time when she was groomed online to join Daesh.
The Mail and Times report that Britain could be forced to take back the runaway Daesh schoolgirl and dozens of other jihadi brides fleeing their collapsing caliphate. The articles note that Ministers, including Tom Tugendhat, the Conservative Chairman of the Commons foreign affairs committee, yesterday vowed not to risk UK lives to rescue Shamima, who is "begging" to come home despite having "no regrets" about her four years in Syria.
Home Secretary Sajid Javid said:
Daesh is on its knees in Syria, but we know that it continues to plan and inspire attacks both here and abroad.

I condemn anyone who has travelled to be part of this barbaric and brutal group – and we must remember that those who left Britain to join Daesh were full of hate for our country.

My message is clear - if you have supported terrorist organisations abroad I will not hesitate to prevent your return. If you do manage to return you should be ready to be questioned, investigated and potentially prosecuted.

The reporting in the Times newspaper has shone a light onto the complex issues we currently face in countering the terrorist threat.  

We have a range of tough measures to stop people who pose a serious threat from returning to the UK, including depriving them of their British citizenship or excluding them from the UK.  We closely monitor any returnees who pose a risk and new terror legislation passed this week allows us to make travelling to certain designated regions an offence. We also support communities in their efforts to prevent radicalisation.   

My priority as Home Secretary is to ensure the safety and security of the UK - and I will not let anything jeopardise this.
Albert Dolbec immigration case
The Guardian reports on the case of an elderly man who has received an apology from the Home Office after he was told he needed to leave the UK in order to apply to stay.
Albert Dolbec, a US citizen, has spent two and a half years engaging with the Home Office to be granted a spousal visa, the paper reports.
According to the paper, the man, who has serious physical and mental health issues, was under pressure to leave the UK and apply for the visa from the USA because the Home Office said he had entered the UK on a visitor's visa back in 1997 and could not convert it while in the country.
A Home Office spokesperson said:
Mr Dolbec has indefinite leave to remain. We have written to him to confirm his leave and apologise for the errors made.