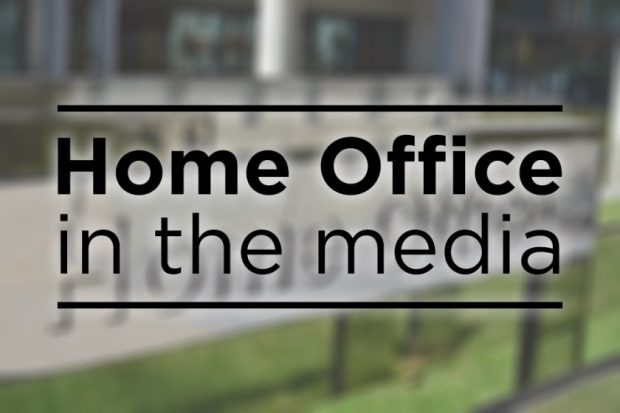 Today's leading story includes coverage of the Front Line review into the experiences of police officers.
Front line review of policing
The Telegraph reports on the Front Line review of policing on its front page, the Mirror and Independent also report on the review.
The Telegraph leads with the recommendations that all front line police officers should have Tasers, as forces increase training in the use of the weapons to combat rising violence. According to the paper, officers feel they need the stun guns in the face of a knife crime epidemic and to protect themselves as more police are deployed on lone patrols. The paper further reports that 7 of the 43 forces are already introducing Tasers for front line officers who want them. The review itself states that "views were expressed that more, or all, officers should be issued with Tasers, especially when single crewing."
The Mirror leads with the line that overworked police feel too stressed and depressed to solve crimes. The Home Office survey reportedly found that officers fear they are letting the public down by failing to solve cases because they are working under constant pressure.
The Independent also focuses on police officers' mental wellbeing, suggesting that budget cuts and increasing demand are exacerbating mental ill-health. The report notes that the review has been criticised for excluding budget and pay from discussions.
In response to the coverage on Tasers a Home Office spokesperson said:
We have been clear we will give police the tools they need to cut crime and tackle disorder on our streets and Taser provides officers with an important tactical option when facing potentially physically violent situations.

Earlier this year the Home Secretary gave his approval for chief officers to train selected student officers to carry Tasers to help frontline officers to protect themselves and the public.

However, it is for Chief Officers to determine the number of devices and specially trained officers based on their force assessment of threat and risk.