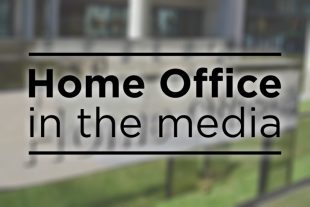 Today's Home Office media stories include the surge in hate crime, county lines crimes, and "golden passports".
Police record surge in hate crime
There is widespread reporting of new statistics showing hate crime has more than doubled in the past five years.
The Guardian leads on how the rise is due in part to the Brexit vote and last year's spate of terrorist attacks. It reports that hate crime offences recorded by police in England and Wales rose by 17% to 94,098 in the 12 months to March.
The Times notes that there were spikes in victims reporting hate crime in the weeks after the Westminster attack last year, following a trend which has now lasted several years.
Overall there is widespread reporting of how the Home Office believes that some of the rise in hate crime generally was down to improved recording practices by police but noted that there was also "an apparent increase in racially or religiously aggravated offences."
Minister for Countering Extremism Baroness Williams said:
It is encouraging that the independent Crime Survey for England and Wales shows a 40 per cent fall in hate crime over the last decade.

But my message to people and communities affected by hate crime is that we stand in solidarity with you, and police recording of crime clearly shows that government and police forces must not be complacent in rooting these crimes out.

It is why today we have launched a newly updated Hate Crime Action Plan and announced a wide-ranging review of hate crime laws to be conducted by the Law Commission.
County lines
The Mail splashes on the "disturbing scale" of the county lines national crime "epidemic" that was laid bare yesterday.
According to the piece, police say the number of gangs shipping heroin and crack cocaine form cities to provincial towns doubled to 1,500 in under a year. The article notes that by using youngsters as drug mules, drug gangs are making a combined £7m a day.
In addition, it notes that the National County Lines Coordination Centre unveiled estimates showing the number of operations has soared from 720 last November to 1,500 today.
The Mail piece carries a statement from the Home Secretary which can be found below.
In further related coverage, the Times, Telegraph, Independent, Mail, Sun, Metro and Star report that a 15-year-old girl was among 58 people rescued in a concerted action against county lines. The articles note that police forces raided properties and arrested 200 suspects in a week of action led by the newly established National County Lines Coordination Centre.
The Telegraph and Sun carry comments from John Woodcock MP saying that train conductors, coach drivers and taxi drivers should be rewarded if they spot young people involved in drug trafficking for county lines gangs.
Home Secretary Sajid Javid said:
Three weeks ago in this paper, I committed to wage war on the child slave drug gangs running county lines across the country. Enslaving vulnerable children and forcing them to traffic drugs is an appalling crime and it must stop.

We have invested £3.6m in a new National County Lines Coordination Centre - one of the key commitments in our £40million Serious Violence Strategy. The centre is already making an impact, identifying county lines hotspots and disrupting the criminal networks behind them.

Following a week of action from the National Crime Agency and police forces across the country, more than 200 arrests have been made and 58 vulnerable people have been saved from harm. As these arrests move through the criminal justice system, I'm confident the perpetrators of these awful crimes will receive the tough sentences they deserve, just as Zakaria Mohammed did last week when he was sentenced for 14 years for recruiting teenagers to sell crack cocaine and heroin in Lincolnshire.

The early success of the coordination centre demonstrates what can be achieved when law enforcement works with other public services like health, welfare and education. I'm confident a lot more can be achieved with this public health approach and I'll be launching a consultation on creating a statutory duty for public sector bodies to tackle serious violence.
Golden Passports
The Guardian (splash) reports that Europe's security is being put at risk by the so-called "golden passport" schemes that allow states to sell citizenship or residency to potentially "dangerous" individuals, the EU justice commissioner warns.
According to the piece, Vera Jourova says the programmes are "problematic" and "unfair" - echoing the private concerns of Europe's intelligence agencies, who fear "golden passports" have been exploited by people with the money to buy access to the UK and Europe.
Her comments come as Malta and Cyprus were named on a blacklist of 21 nations operating passport schemes deemed to pose a high risk of tax evasion. The list was published by the OECD, which wants tighter controls.
The piece notes that UK intelligence is also known to have been deeply unhappy about the schemes with a Whitehall source saying that "it is not just a concern for us, it is a concern for everyone."
A Home Office spokesperson said:
In 2014 and 2015 we took action to tighten up the Tier 1 investor route. This included introducing new powers to refuse applications where there are reasonable grounds to believe funds have been obtained unlawfully. As a result of these reforms, applications reduced significantly.

As the Prime Minister and former Home Secretary made clear, we are taking another look at how the route operates and are undertaking further checks on investors who came to the UK through this route before the reforms were introduced.
Sign up for email alerts and follow us on Twitter.